ALFRED SISLEY. 1839-1899
158 THE GARDEN OF HOSCHEDE
Oil on canvas. 56 X 74 cm. Inv. No 3421 Signed lower right: Sisley
F. Daulte refers to the Pushkin Museum picture as The Garden of Hoschede at Montgeron and states that it was executed in 1881 and is Sisley's only view of Montgeron, where Ernest Hoschede, a well-known Parisian banker and one of the first collectors and enthusiasts of Impressionist painting, had his estate. The picture was bought by Ivan Morozov from Durand-Ruel for 40,000 francs in Paris on November 20, 1904.
Provenance: until 1900 The J.-B. Faure Collection, Paris; 1900—4 The P. Durand-Ruel Collection, Paris (No 5710); 1904—18 The I. Morozov Collection, Moscow; 1918—48 The Museum of Modern Western Art, Moscow; since 1948 The Pushkin Museum of Fine Arts, Moscow
Exhibitions: 1939 Moscow, Cat., p. 46; 1960 Moscow, Cat., p. 35; 1974 Leningrad, Cat. 61; 1974—75 Moscow, Cat. 50
Bibliography: Кат. ГМИИ 1957, p. 129; Кат. ГМИИ 1961, p. 171; Маковский 1912, p. 24; Кат. ГМНЗИ 1928, No 580; Reau 1929, No 1108; F. Daulte, Sisley, Lausanne, 1959, No 444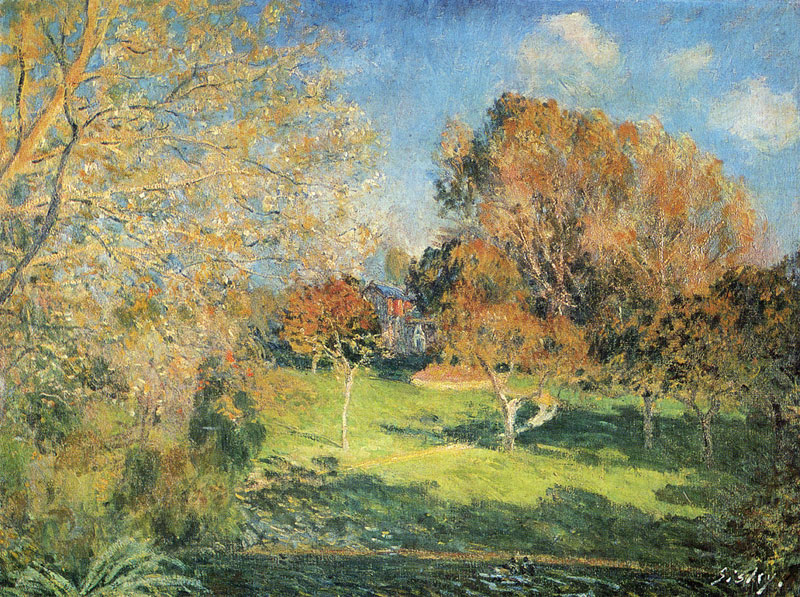 158 THE GARDEN OF HOSCHEDE
159 FROSTY MORNING
IN LOUVECIENNES. 1873
Oil on canvas. 46 X 61 cm. Inv. No 3420 Signed and dated lower left: Sisley 73 In 1873 Sisley painted several views of Louveciennes and its suburbs, all of which, however, greatly differ from the Moscow picture. The latter was bought by Ivan Morozov from Durand-Ruel in Paris in 1903 for 11,500 francs. Durand-Ruel purchased the landscape for 9,300 francs at the sale of the Strauss Collection at the Hotel Drouot on May 3, 1902.
Provenance: until 1902, May 3, The G. Strauss Collection, Paris; 1902, May 3 — 1903 The P. Durand-
Ruel Collection, Paris; 1903—18 The I. Morozov Collection, Moscow; 1918—48 The Museum of Modern Western Art, Moscow; since 1948 The Pushkin Museum of Fine Arts, Moscow
Exhibitions: 1939 Moscow, Cat., p. 46; 1955 Moscow, Cat., p. 57; 1960 Moscow, Cat., p. 35; 1974-75 Moscow, Cat. 49
Bibliography: Кат. ГМИИ 1957, p. 129; Кат. ГМИИ 1961, p. 171; Маковский 1912, p. 24; Ternovetz 1925, p. 460, ill. p. 457; Кат. ГМНЗИ 1928, No 579, ill.; Reau 1929, No 1107; Ревалд 1959, pp. 188—189, 195; F. Daulte, Sisley, Lausanne, 1959, No 57, ill.; Прокофьев 1962, ill. 146; Antonova 1977, No 94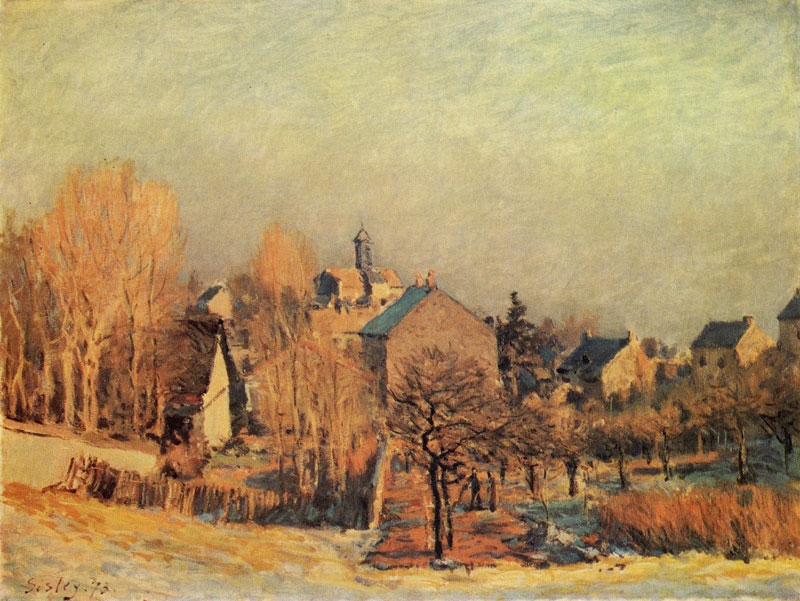 159 FROSTY MORNING