JEAN FRANQOIS DE TROY. 1679-1752
21 SUSANNAH AND THE ELDERS.
1715 Oil on canvas. 74 X 91 cm. Inv. 1715 Signed and dated left: De Troy fils 1715 The subject is taken from the Bible (Dan. 13:19— 23). Other pictures by De Troy on the same theme are in The Hermitage (Inv. No 1240, formerly Inv. No 1498; 235X178 cm; signed and dated 1721; a pendant to Lot and His Daughters, also in The Hermitage, formerly attributed to Fran?ois De Troy); in the Musee des Beaux-Arts in Rouen (80 X 65 cm; dated 1727; a pendant to Bathsheba in the Musee des Beaux-Arts at Angers); in the Farr Collection in Philadelphia (94 X 135 cm; dated 1748), and in the V. Mamurovsky Collection in Moscow (variant of the Pushkin Museum picture).
Provenance: until 1930 The Hermitage, St Petersburg — Leningrad (acquired during the reign of Catherine II); since 1930 The Pushkin Museum of Fine Arts, Moscow Bibliography: Кат. ГМИИ 1957, p. 50; Кат. ГМИИ 1961, p. 72; Cat. Ermitage 1863, No 1499; Waagen 1864, No 304; L.Clement de Ris, "Musee Imperial de 1'Ermitage", Gazette des Beaux-Arts, 21, 1880, p. 268; Сомов 1900, No 1499; Dimier 1928—30, vol. 2, p. 34, No 6; Reau 1929, No 358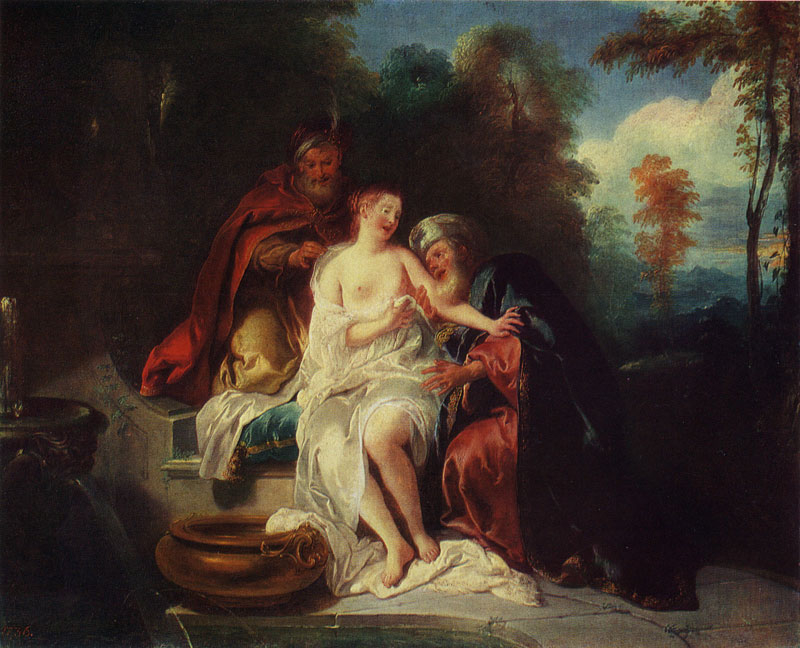 21 SUSANNAH AND THE ELDERS.