About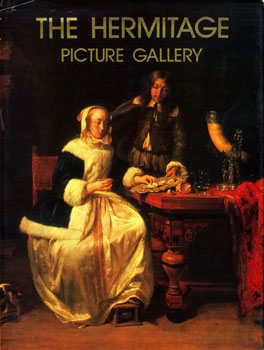 The Hermitage Picture Gallery
THE HERMITAGE
LENINGRAD
THE HERMITAGE is one of the world's oldest and richest repositories of art. The museum's exhibitions and reserves occupy five buildings, each one an architectural masterpiece. These are the magnificent Baroque edifice of the Winter Palace, the Small Hermitage and the Big (or Old) Hermitage which both epitomize Russian classicism, the Hermitage Theatre, strict in its classical proportions, and, finally, the New Her­mitage, specially erected to house the ever grow­ing collections.
The interiors of all five buildings are outstanding works of art in their own right, which strike the imagination by the richness of their decor. The Russian craftsmen who created them to the designs of renowned architects displayed a truly extraor­dinary skill.
The jewel of the Hermitage's crown is of course its celebrated picture gallery, which contains the works of the leading European schools of painting, above all of the Italian, Flemish, Dutch and French schools. Among the greatest artists represented are Raphael, Leonardo da Vinci, Rembrandt, Rubens, Poussin, Greuze, Boucher, and Watteau. The Spanish, Netherlandish, German and English collections are less extensive, although they include paintings by El Greco, Lucas Granach the Elder, Bruegel, and Gainsborough.
The Hermitage collection was significantly en­larged with the transfer to it in Soviet times of works by French artists of the late nineteenth and twentieth centuries from the Moscow Museum of Modern Western Art. On display in its rooms are canvases by Monet, Pissarro, Gauguin, Cezanne, Matisse, and Picasso.
Reproduced in this artbook are some of the finest works from the Hermitage collection.
268 plates, 201 in full color
THE AURORA ART PUBLISHERS OFFERS ARTBOOKS WITH REPRODUCTIONS OF THE MASTERWORKS OF WORLD ART HOUSED IN SOVIET MUSEUMS: ART OF THE OCTOBER REVOLUTION, BYZANTINE ART IN THE COLLECTIONS OF SOVIET MUSEUMS, THE TRETYAKOV GALLERY, MOSCOW: RUSSIAN PAINTING, THE HERMITAGE: WESTERN EUROPEAN PAINTING OF THE 13TH TO 18TH CENTURIES, FRENCH PAINTING FROM THE PUSHKIN MUSEUM: 17 TH TO 20 TH CENTURY
PICTURES OF THE EARLY ITALIAN RENAISSANCE AND MEDIEVAL SPAIN, THE ENGLISH PORTRAIT AND THE DUTCH STILL LIFE, WORKS BY GERMAN ROMANTICS AND FRENCH IMPRESSIONISTS FROM THE WORLD-FAMOUS HERMITAGE COLLECTION
Introduction by
Academician BORIS PIOTROVSKY,
Director General of the Hermitage
Design and layout by
SERGEI DYACHENKO
AURORA ART PUBLISHERS, LENINGRAD, 1979
Printed and bound in the USSR
Э
80103-520
без объявления
023(01)-80
4903020000