EUGENE BOUDIN. 1824-1898
145 THE BEACH AT TROUVILLE. 1871
Oil on panel. 19 X 46 cm. Inv. No 3567 Signed and dated left: E. Boudin 1871 Inscribed lower right: Trouville
There are numerous variants of this picture, which differ one from another in the position of the human figures on the beach.
Provenance: until 1950 The P. Ettinger Collection, Moscow; since 1950 The Pushkin Museum of Fine Arts, Moscow
Exhibitions: 1955 Moscow, Cat., p. 22; 1956 Leningrad, Cat., p. 8; 1960 Moscow, Cat., p. 10 Bibliography: Кат. ГМИИ 1957, p. 19; Кат. ГМИИ 1961, p. 28; Musee de Moscou 1963, p. 161, ill.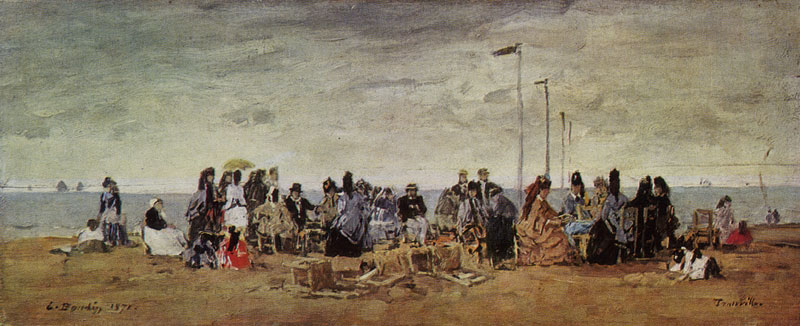 145 THE BEACH AT TROUVILLE. 1871