THEODORE GERICAULT. 1791-1824
98 STUDY OF A MALE MODEL
Oil on canvas. 64 X 53 em. Inv. No 922 This study cannot be directly related to any one of the artist's pictures. It belongs presumably to the period of 1810—11, when Gericault attended Guerin's studio and sketched a great deal from live models. The painterly and plastic treatment of the model, the contrasts of light and shade, and the inner tension of the image are characteristic features not only of the Pushkin Museum study, but of this group of Gericault's works as a whole,
Provenance: until 1892 The S. Tretyakov Collection, Moscow; 1892—1925 The Tretyakov Gallery, Moscow; since 1925 The Pushkin Museum of Fine Arts, Moscow Exhibitions: 1955 Moscow, Cat., p. 35; 1956 Leningrad, Cat., p. 26
Bibliography: Кат. ГМИИ 1948, p. 32; Кат. ГМИИ 1957, p. 58; Кат. ГМИИ 1961, p. 82, ill.; Опись галереи Третьяковых 1894, No 82; Кат. галереи Третьяковых 1917, No 3873; Перцов 1921, р. 13; Reau 1929, No 534; Прокофьев 1962, ill. 93; В. Прокофьев, Теодор Жерико, Moscow, 1963, pp. 55, 253, ill.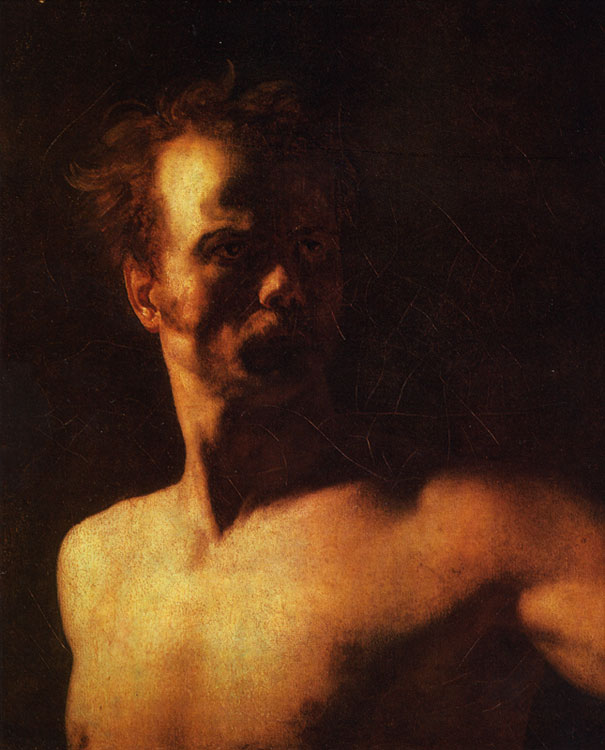 98 STUDY OF A MALE MODEL