JEAN LAURENT MOSNIER. 1743/44-1808
94 PORTRAIT OF EKATERINA MURAVYOVA AND HER SON NIKITA.
1802 Oil on canvas. 127 X 98 cm. Inv. No 1026 Signed and dated lower left: /. L. Monier f. 1802 Ekaterina Muravyova (1771—1848), nee Kolokoltseva, was the wife of Mikhail Muravyov, statesman and writer, curator of Moscow University. Nikita Muravyov (1796—1843) was a participant in the Decembrists' uprising. He was condemned to death, but the death penalty was commuted to hard labor in Siberia. The picture was formerly believed to portray Anna Muravyova-Apostol and her son. The present identification of the models was made on the basis of Matvei Muravyov-Apostol's Reminiscences (see: Rus-sky Archiv, vol. 2, St Petersburg, 1888, p. 369). Provenance: in the early 19th century The M. Muravyov Collection, St Petersburg; until 1917 The O. and L. Zubalovs Collection, Moscow; 1917—24 The Rumiantsev Museum, Moscow (gift of the Zubalovs); since 1924 The Pushkin Museum of Fine Arts, Moscow Exhibitions: 1955 Moscow, Cat., p. 48; 1956 Leningrad, Cat., p. 42; 1972 Moscow, Cat., p. 121 Bibliography: Кат. ГМИИ 1948, p. 53; Кат. ГМИИ 1957, p. 97; Кат. ГМИИ 1961, p. 131; Reau 1929, No 604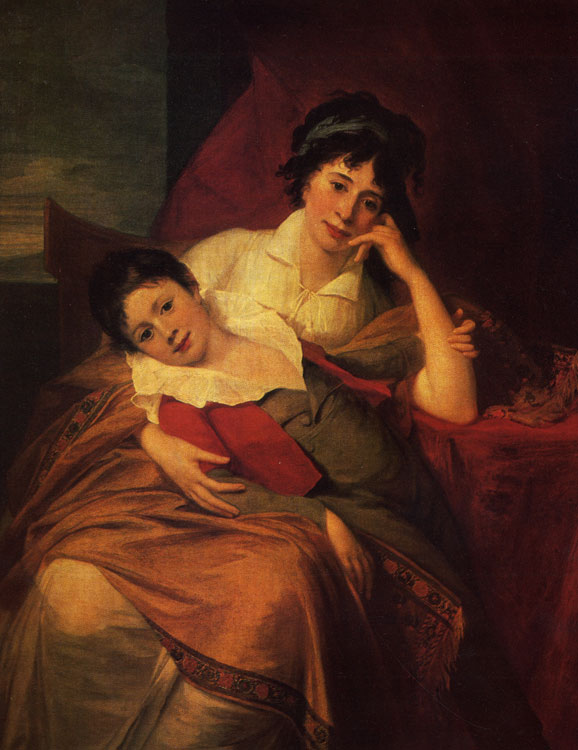 94 PORTRAIT OF EKATERINA MURAVYOVA AND HER SON NIKITA.