MASTER OF THE LENAIN CIRCLE, ACTIVE IN THE SECOND HALF OF THE 17TH CENTURY
14 PEASANTS BY THE WELL
Oil on canvas. 94 X 119 cm. Inv. No 1239 A picture of the same name, similar in composition to the work reproduced here, is now in the Art Institute of Chicago; in all probability this is the work of the master tentatively called by J. Thuillier "Le Maitre aux begums" in the catalogue of the 1978 exhibition.
Provenance: since 1927 The Pushkin Museum of Fine Arts, Moscow (received from the State Museum Reserve)
Exhibition: 1978 Paris, Cat. 75
Bibliography: V. Lazareff, "An Unknown Picture by Michelin", Art in America, 1933, December, p. 32, ill.; В. Лазарев, Братья Ленен, Moscow — Leningrad, 1936, pp. 71, 72, 84; G. Isarlo, "Les Trois Le Nain et leur suite", La Renaissance, 1938, March, p. 1; M. Каган, Братья Антуан, Луи и Матъе Ле Нен, Moscow, 1972, pp. 20, 21, ill.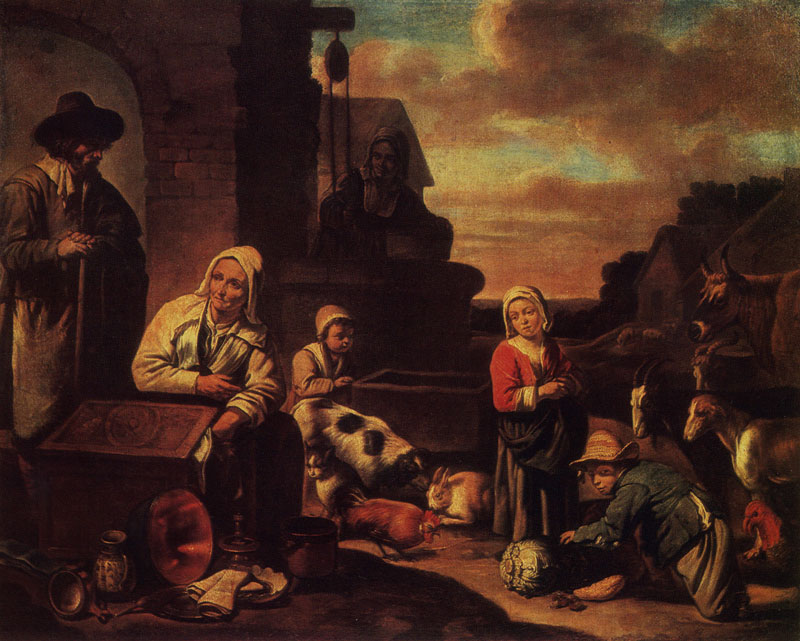 14 PEASANTS BY THE WELL