Kirghizia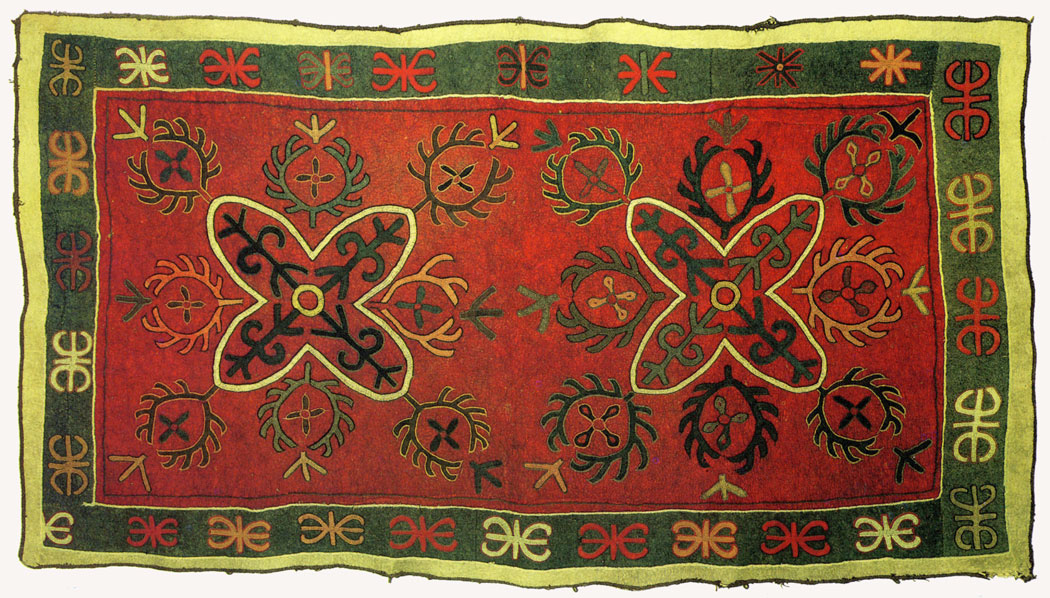 Tushkiyiz wall-hanging
Village of Daraut-Kurgan, Gulcha District, Kirghizia. 1925
Felt, with embroidery in woollen thread.
223 × 129 cm. lnv. No. 762 ГЗК
Acquired in 1983. First publication.
The tushkiyiz, an embroidered wall-hanging, was spread almost universally throughout Kirghizia. It was an indispensable part of the bride's trousseau and was placed on the wall to the left of the entrance, i.e. in the corner of the yurta usually assigned to the newly-married couple.
The decor of this wall-hanging is characterized by the expressive monumentality of its forms. It is designed in accordance with the traditions of Kirghiz folk ornamentation. The two large four-petalled rosettes in the centre are filled with swirling branches (ram's horns), one in each petal. Stylized fan-like flowers surround the rosettes. Each of the "ram's horns" and "fans" is crowned with a trefoil traditionally called "raven's claws". The border is decorated with the motif known as "spider". Most of the ornamental elements have smooth, curvilinear outlines. The design as a whole and each of its components are in perfect balance with one another. The same applies to the colours of the background and the patterns. The colouring of the wall-hanging is evocative of old Kirghiz carpets where the yarn was dyed in fast natural pigments. The subdued colour range of the carpet is dominated by the deep red hue of the background which sets off the elaborate ornamental motifs.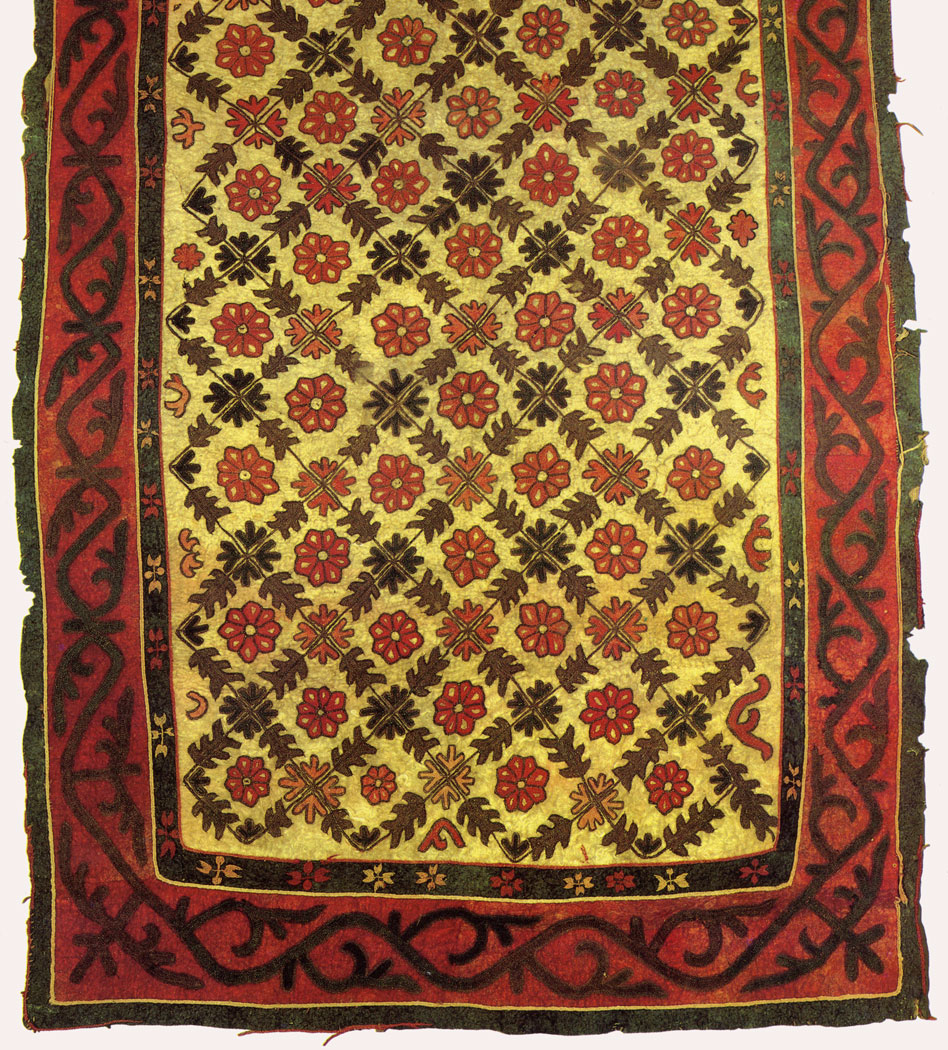 Tushkiyiz wall-hanging
Village of Daraut-Kurgan, Gulcha District, Kirghizia. 1930s
Felt, with embroidery in woollen thread.
120 × 262 cm. Inv. No. 757 ГЗК
Acquired in 1983. First publication.
Traditional Kirghiz tushkiyiz was embroidered only along the broad velvet, silk or cotton border decorating the top and the sides of the wall-hanging. The central field was made of vividly coloured monochrome or patterned silk, velvet or brocade. In earlier days such wall-hangings were often reinforced on the reverse side with a thick felt lining. Nowadays an embroidered felt tushkiyiz is quite a rarity, almost as unique as embroidered floor carpets (shirdaks).
This tushkiyiz comes from a mountainous southern region of Kirghizia where the old traditions of embroidery on felt were still alive up to the 1930s. In its composition, materials and technique the article undoubtedly represents an archaic type of wall-hangings. At the same time its ornamentation and colouring betray a strong influence of Tajik and Uzbek art. Thus, the composition decorating the field of the tushkiyiz is almost identical to the "latticed" design (tabadoni) of the 19th-century embroideries from Bukhara and Nurata.
The wide border of the tushkiyiz is adorned with the dynamic islimi pattern whose various modifications frequently occur in the ornamental art of Tajikistan, Uzbekistan and many peoples of the Middle East.
В Екатеринбурге можно приобрести электродвигатель Siemens для промышленного оборудования.